China Cnow Common Nail Factory
Manufacture and service of Nails
We Supply

Common Nails

and other Nails.

We have built a whole set of effective management system from raw materials procurement, manufacturing, quality control, packaging, transport and delivery to the after-sales service.

We Supply

Iron Nail

and Wire Nails.

Wire Diameter Available: 0.083", 0.099", 0.113", 0.120", 0.131" , Nail Length: 1-1/4" to 3-1/2" Nail Shank Types: Smooth, screw, ring.
Wecome to Website!
We have complete inspection requlation to ensure our customer's profit..
Services
"We promise timely delivery, guaranteed quality and good after-sales service to customers.."
-China CNow Common Nails Factory
Collated Nails are common steel wire nails designed for various quick framing works of doors, windows, pictures, furniture and etc. Supplied with four popular angle types: 34, 28, 21 and 17.
Cnow supplies good quality oval wire nails used for concrete construction and building decoration. Our oval wire nails are mainly made of wire materials stainless steel wire SUS304, 316, 204,201.
Common Nails: From China Cnow Common Nail Factory
Experienced exporter of Common Nails aiming at global market.
China Cnow Common Nails Factory is one of the leading manufacturer of common nails as well as other Nails products in China.
Since its foundation in the year 1989, this factory is engaged in productionand export of Common Nails, Iron Nails, Wire Nails, Brass Nails, Finishing Nails, Stainless Steel Nails, Concrete Nails, Roofing Nails, Coil Nails, Plastic Strip Nails, Common Round Nails, Bullet Head Nails, HOrseshoe Nails, Paper Strip Nails, etc.
New Products

Spiral Shank Steel Nails Brass Plated, Bronze Plated and Nickel Plated
Supplier of brass plated spiral shank steel common nails mainly used as framing nails. 1 1/4 inch nails brass plated, bronze plated, nickel plated and zinc plated.Learn More
Clout Nails for Roofing Uses
Copper nails and aluminium nails for shingle and felt roofing uses. Also called Clout nails. Galvanized steel or stainless material also available. Learn More
Brass Nails
brass nail and copper nail (Hard temper) - 62% Cu 38% Zn                               
Packing:   1LB/box  x  40boxes/carton. Learn More
Paper strip nails
Paper strip Nails,With diamond point.Round Head And D Head. Finish:Bright and Electric Galv and HD Galv and Mech Galv. Learn More
Screwed nails
Technical Standards:  Length(mm):40mm-100mm Shank Diameter:2.2"-4.1" 
Package description:  50LBS PER CARTON,48CTN/PALLET  Learn More
Common Round Wire Galvanized Nails
Cnow supplies common round iron nails with the surface finishes of electro galvanizing and hot dipped galvanizing. Learn More
Wood Screws
Cnow offer galvanized steel wood screws and brass wood screws. Supplied in rolling and cutting types. Detail specification sheet as follow.Learn More
Galvanized Concrete Nails Specification Sheet
Galvanized concrete nails are mainly classified into Vertical grain galvanized concrete nails, Shanked galvanized concrete nails, Galv. nails with no head and galv. Learn More
Galvanized Iron Roofing Nails
Cnow offers galvanized iron roofing nails in two finishes: electro galvanized and hot dipped zinc plated (heat galvanized). The hot dipped galvanizing is also called thermal galvanizing. Learn More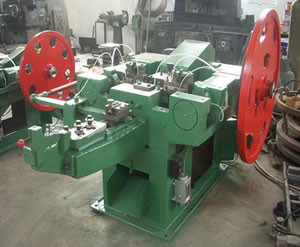 Coil Screw Nails Making Machine
Cnow supplies nails making machines for building factory to produce coiled wire nails and staples. We can offer technical support in providing all information requested with setting up a plant; the applicable nails machines; the steps to get coil nails produced from wire drawing to polishing of nails, and other related information needed. Learn More